South Canterbury Trout Guiding –
New Zealand Fly Fishing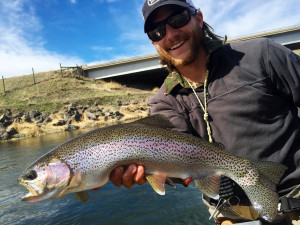 Founder and Owner of South Canterbury Hunting safaris Julian Dann has been fly fishing for 20 years and guiding for the last 12 years. Trained under the guidance of Jack MacKenzie Julian enjoys the opportunity to show visitors the beautiful rivers we have at our back door. Sight fishing to browns and rainbows with a dry fly is the ultimate experience for Julian and he is very keen to take you to those fish.
The secret to maximising your fishing experience is to use an experienced fishing guide. When Julian is not available to fish due to hunting we are very fortunate to work closely with some of New Zealand's most experienced fly fishing guides. Due to, in part, the clarity of the water, the fly fishing in this region can be quite technical and therefore enormously rewarding. We recommend you use a guide whilst staying with us – however the choice is yours; use a guide for all, some or none of your time you are staying with us.
Fishing Tackle
Fly Rods
You should bring at least two fly rods: 5-7 wts for streamer fishing and windier conditions, and a 4-5 wt for evening dry fly fishing. We strongly recommend bringing a third 5 wt as a backup. There are a limited number of rods at the lodge in the event you break one.
Fly Reels
Reels should be high quality, preferably disc-drag models loaded with a minimum of 80 / 100 yards of backing. The occasional 8-10 lb fish will test your gear to the limit! You may want a backup reel or extra spools for your reel. Having two rods rigged, one with floating line and one with sinking line will maximize your fishing time.
Lines
Floating and sinking lines cover the fishing at our camps. Weight forward or double taper floating lines are fine for dry fly and small streamer fishing. We recommend that you bring a 30 ft 150-250 gram fast sink line for your reel. The fast sinking lines are especially effective in the lakes and the faster, deeper stretches of the river. Most of our lakes have abrupt drop offs along the edges and the sinking lines get the fly down to where the fish are. If you have not cast a fast sinking line before, we recommend you get a little practice in before you come. It's not difficult to learn, but it will increase your fishing success and pleasure if you already have this technique down.
Leaders
7 ½ to 9 foot 2x-5x leaders will suffice for most fishing. We like to use fluorocarbon for tippets for its added abrasion resistance and low light reflectivity. Bring some extra spools of tippet in the 2x – 6x range. Evening fishing in the channels near the lodge can become very technical at times.
Flies
Much of our fishing during the day is with streamers or large attractor pattern dry flies. We do carry a full assortment of productive patterns at the camps.
Waders
Breathable waders are the best way to maximize your fishing experience. You can layer poly-pro or fleece underneath in cold conditions and turn them down during hot weather.
Wading Shoes
Sturdy shoes with good felt or rubber soles. While the footing is good, the Manso has many stretches of fast water with strong currents. Please be sure your waders and wading shoes are clean and dry before visiting to prevent the spread of invasive species like whirling disease, zebra mussels or didymo. We recommend the new rubber soled wading shoes and waders.
Contact Us
for more
information
303-304-1081